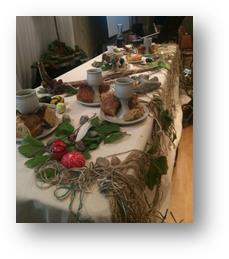 *Then the Lord God will wipe away the tears from all faces, and the disgrace of his people he will take away from all the earth, for the Lord has spoken.*
*It will be said on that day, Lo, this is our God; we have waited for him, so that he might save us.*
*This is the Lord for whom we have waited; let us be glad and rejoice in his salvation.*
Isaiah 25
Dear friends-
One of the oldest of all religious arguments fixates on the question of whether God is an angry, judgmental God or a loving and forgiving One. If any of us were to read the entire Bible in one sitting (probably a really bad idea, incidentally), we would likely find ourselves whipsawed between the poles of God's rage and God's gentle blessing. When we finished the last verse of Revelation, we'd probably sigh deeply, look up, and say, "Hmmm; I'm still confused." Or maybe, "Sheesh; I need a stiff drink."
For a wise and tender treatment of one example of this argument, read Quinn Caldwell's words on the unthinking and hateful heresy that "The Old Testament God is an angry God; the New Testament God is a loving God." http://www.ucc.org/feed-your-spirit/daily-devotional/one-1.html.
If it were in my power to end this argument once and for all, I'd probably stand with Quinn and start by saying, "Well, God is a little of both." Most of us probably have times when we are properly enraged by what we see or experience in life, and other times when we feel only the fullness and joy of God's gentle blessing. If we are, as Genesis tells us, "made in God's image", then one thing this means is that God's emotional range is, in some ways, not unlike our own. Likely far more mature than ours, but I hope you know what I mean.
But this approach to resolving the "judgmental vs. forgiving God" argument has been tried before, to little avail. We tend to see the world through the lens to which we're accustomed, and struggle to see it any other way. We're inclined to confirm our settled world view by everything we see and experience, as in the old expression, "If the only tool we have is a hammer, everything looks like a nail."
Much human blood has been shed - and much destruction wrought beyond the human realm - under the dark shadow of this religious food fight. We can well imagine that the ruin and agony that have come from such squabbling has both angered God and caused God's gentle, loving heart to break. Today, we recoil in horror at the sight of "religiously motivated" beheadings and so-called holy wars, but such abominations are woven into the fabric of our own religious heritage, just as they are in those of today's convenient enemy. God recoils at this evil – far more than we do, I believe. And God's heart is better at breaking and healing than ours are.
So we go back to Scripture again; this time, taking it in smaller bites. We read the parts that challenge either our bleakest, harshest assumptions, or our glib "God-thinks-we're-just-ducky" mantras. And we find, finally, not just God's harsh judgment nor God's blithe blessing, but God's eternal hope. Hope for something that, mystically, is both fully present today, and not quite arrived yet. Hope that God will, as Isaiah says, take away "the disgrace of [God's] people."
Yeah; we can relate to that – especially if we search for that hope together, in God's holy and patient presence. This is why we worship together. We might sometimes read Scripture alone and learn well. But we do it together – and slowly - as well. In part, so that we can discover that there are more tools at hand than just a hammer. The searching soul beside us might just let us use his or her sanding block. Sometimes the problem isn't a nail; it's just a rough edge – even if a very rough one.
We worship together at 10 AM. You have tools to share as well.
Sabbath blessings-
AFP