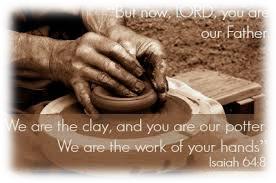 *O that you would tear open the heavens and come down, so that the mountains would quake at your presence…*
*to make your name known to your adversaries, so that the nations might tremble at your presence…*
*But you were angry, and we sinned; because you hid yourself we transgressed. We have all become like one who is unclean…*
*For you have hidden your face from us, and have delivered us into the hand of our iniquity…*
*Yet, O Lord, you are our Father; we are the clay, and you are our potter; we are all the work of your hand.*
From Isaiah 64
Dear friends-
A whole lot of people – even many who consider themselves not to be especially religious – spend a fair amount of time wondering just what kind of being God really is. Some folks, who consider themselves very religious say that the answer to this poser of a question is simple to find – in the Bible.
Turns out that, when we go to that Bible and start looking, one thing we find is a whole lot of stories about a whole lot of people who spent a whole lot of time… wondering who God really is.
Is God mad at us? Will God get over being mad at us? Will God swoop down sometime – finally! – and save us from our broken ways? Or will God turn back to us and say, "You people were one of my few mistakes; I'm all done trying to help you to see anew."?
Or does God simply shape us, counsel us, and invite us to live holy, compassionate lives, allowing us to create our own Heaven or Hell?
Scriptures seem to tell us that people have thought some combination of all of these things at one time or another; we probably still do.
There are simply no easy answers to these questions. If there were easy answers, our Scriptures would be a whole lot shorter. And we wouldn't have to get together to puzzle, pray over, and sing about these fundamentally important questions.
But we still do that. Sunday mornings at 10 AM – not to mention countless other places and times all over Creation. Christians and others; mor others and Christians. All such places are intimately holy - more so when you are present.
Sabbath blessings-
AFP