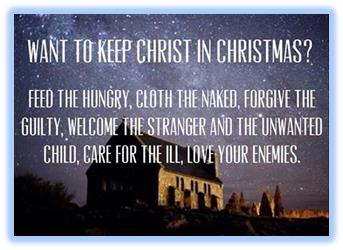 Dear friends-
Breathe. Deeply. In through the nose, out through the mouth. Actually, that's from the Hindu yoga tradition, but I have a hunch Jesus would agree. Especially after he watched us tie ourselves in knots celebrating his birthday.
How sweet it is when the rush of this season begins to settle, and a kind of quiet begins to descend on us. Most of us probably just want to sit and relax, savoring gifts given, gifts received, the memory of that holy, bounteous meal we may have shared with people we love so dearly. And for many, the idea of rousting ourselves out to go to church on the Sunday after Christmas is… well… just too much to contemplate.
But we worship, because Jesus Christ is still being born among us. Every day. So, tomorrow, let us simply sing. We may not get enough chances to sing the wondrous carols of Christmas during the season, so we'll spend most of our time at worship tomorrow singing them.
As a special enticement, we'll serve coffee, tea, and treats during our service. Yes, that's right. On a table, right up front. Help yourself. (The Christian version of yoga seems, of necessity, to involve coffee and cookies. Go figure.)
And I'll read you my second favorite Christmas story; the most favorite story, of course, being the Christmas story itself.
Come; be still. Come and sing. Come and celebrate, as we breathe deeply. The Hebrew word for breath is the same word as for spirit. We worship at 10 AM. The coffee will be on and the Spirit will be present, of course.
Sabbath blessings-
AFP