*Due to a boneheaded error by… um… me, this was not properly sent yesterday. I did send it, just to the wrong address…*
Dear friends-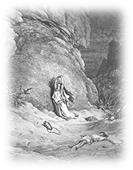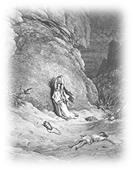 All week long, I've been humming the great old cowboy song by Marty Robbins: "Old Dan and I with throats burned dry, and souls that cry for water, cool, clear, water."
Troubling stories in this week's readings from the Bible. First, a very difficult story of Abraham being forced by his wife, Sarah, to evict his son Ishmael, who had been born of Hagar, Sarah's slave. We can probably relate to Sarah's emotions around this situation. Abraham gives Hagar and Ishmael a skin of water for their exile journey, but eventually it runs out. Yet there is a hopeful end to this bitter tale, and it offers us a lesson about who our spiritual kin truly are.
And the words of Jesus, to whom we turn so often for comfort and new hope, seem to offer little or no such respite this week. We miss the abundance of cool clear water for which our souls cry, just like "Dan and I". Jesus seems to be saying that his teachings will bring great division to the families of those who follow him. Sometimes the examination of our faith life seems to offer only a dry well. But there is a hopeful end to this teaching as well.
Our need for water is obvious. Our need for holy truth that restores our souls is obvious as well, and it's not easy to wrestle so. But finally, we only become numb and cynical if we don't wrestle with this stuff.
We gather in worship, in part, to search for water together. We will find it. We worship at 10 AM.
We'd love to have you present. "Old Dan" may even be here; maybe you are old Dan…
Sabbath blessings-
AFP
*"What does the Lord require of you but to do justice, to love kindness, and to walk humbly with your God?" Micah 6: 8*
[image: cid:image001.png@01CF8D5A.BC0DD570]