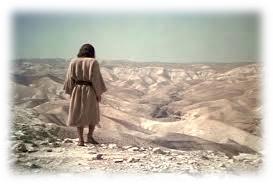 *John the baptizer appeared in the wilderness, proclaiming a baptism of repentance for the forgiveness of sins.*
*And people from the whole Judean countryside and all the people of Jerusalem were going out to him,*
and were baptized by him in the river Jordan, confessing their sins.
Mark: 1
Dear friends-
I walk very carefully, and as quietly as I am able, That would be not very quietly; I'm not an expert. My quarry may be up ahead, just around the corner or over that rise ahead of me. I'm really dabbling in an ancient ritual - one that, at one time, actually kept people fed, but which, for the most part, is today undertaken as sport. I fancy myself engaged in the deeply serious business of hunting. But truth be told, there is spaghetti back at camp if I do not succeed, not to mention a warming drink and a wood stove.
Still, I imagine that I am in the wilderness; it's deep and mysterious. I'm walking on untrodden ground. It is a holy thing, and even a little terrifying sometimes. I venture a ways further than I sometimes make the effort to do, and things seem darker and more unfamiliar. Then suddenly, I am sprawling face down in the damp leaves, having tripped over a rusted strand of barbed wire. Not only am I not very good at this stuff; I am surely not in the wilderness.
John appeared in the wilderness and began to baptize people for whom such wilderness was a real, everyday experience. No barbed wire back then. But dangers; yes there were many and foreboding, and they knew it.
How to compare that experience to today? For many of us, if we baptize our children at all, we dress them in a gorgeous white dress or gown, gather the family, make sure the cameras are ready, and watch proudly as the pastor carefully pours a little bit of very clean water on a neatly combed forehead. The muddy, swirling-water, river baptism of the old days is a rare event, or known only from movies..
Yet, whether we know it or not, we are welcoming this newly baptized person into a mysterious adventure – a wild ride, if you will. We may have tamed the experience of wilderness with fences and dazzling white baptismal outfits, but there is no telling where the journey of the spirit will take this child – or us, if we choose to take it. God and God's creation are not as tamed as we sometimes think.
And that is, finally, a very good thing; God has much to teach us. Some of what we might learn will be richly comforting; some will unsettle us in ways we might seek to avoid, but which bring us to new and more hope-filled lives if we dare take the journey.
Join us in the wilderness of a sweet, warm, comfortable, white-clapboard church. Yes, it can be found. And it is such a holy thing. You help to make it so. No barbed wire, though, thank our good God. At least not at 10 AM on Sundays.
Sabbath blessings-
AFP