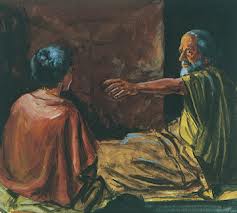 *"See, I am about to do something in Israel that will make both ears of anyone who hears of it tingle."*
1 Samuel 3
Dear friends-
After the cold weather in this part of the world last night, it seems perfect timing for a Scripture passage in which God tells Samuel that everyone's ears will be tingling. I cleared the driveway yesterday afternoon as the Arctic front moved in. I wasn't properly dressed from the neck up and, by the time I was finished, my ears were tingling, even as I was at work in my mind, thinking about Sunday. worship.
I love that the Bible has a line in it about ears tingling; it's such a whimsical word, like finding someplace in another Bible book that says we need to "skedaddle", or another place where it might say that some holy person twiddled his thumbs, as he or she whiled away the afternoon in dreamland.
God really is always trying to capture our attention, and is not above describing our lives and our sensations in whimsical ways that invite a real listening. Samuel came of age in a time when people apparently weren't hearing God's word very much. His book says, "The word of the Lord was rare in those days; visions were not widespread." We might well say something like this about our times today. So maybe our ears need to tingle a bit in order for us to understand that God really is always interested in catching our attention. There is always something worth hearing from that holy, eternal voice.
We try to tune into that voice on Sundays. Yes, many of us try at other times, but when we sit, sing, pray and listen together, we can hear each other seeking the same holy voice. That is almost always helpful, and we are always renewed by so doing.
Really. Your ears and voice are as important as anyone else's.
Sabbath blessings-
AFP