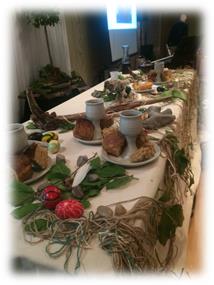 *They are right in what they have said. I will raise up for them a prophet like you from among their own people;*
*I will put my words in the mouth of the prophet, who shall speak to them everything that I command. – Deuteronomy 18*
*And the unclean spirit, convulsing him and crying with a loud voice, came out of him. They were all amazed, and they kept on asking one another,*
*"What is this? A new teaching — with authority! He commands even the unclean spirits, and they obey him." - Mark 1*
Dear friends-
In Mark's Gospel, Jesus gets right down to business. None of John's soaring, richly textured poetry; no timeless stories, as from Luke and Matthew, about the birth of Jesus. Just a brief, spare description of his baptism by John; then he gathers his first disciples, and he's suddenly in the synagogue, connecting with and teaching the people he will grow to love so dearly. A man inhabited by an "unclean spirit" approaches Jesus; the evil voice of the spirit challenges this upstart teacher and Jesus banishes him with astonishing speed. Mark's telling of Jesus' life has been called the "Cliff Notes version of the Gospels". This is worth a chuckle, but doesn't do justice to the power of this almost urgently told story.
What are we to make these days of such a story about "a man with an unclean spirit?" Some of us might take the story just as we hear it. Others might scoff – remembering a movie scene - at the picture of Jesus doing what amounts to an exorcism. Still others might say; maybe in a shaking voice, "I wish someone would cast the unclean spirit out of… me, my alcoholic relative, my lost and broken child…" We choose here the demon we know - in our own heart, or somewhere in the part of Creation we know.
However we hear this story, we can see that it is really about healing, and about Jesus' – that is, God's authority to do so. As "God among us", Jesus is a "a prophet like you from among their own people", as described in the Book of Deuteronomy. But he is not just a prophet who teaches, or speaks truth to power; he SHOWS truth - to the powerful and the powerless. Not just a definition of power, but a demonstration of its true, radically gentle nature.
This path got Jesus into a mess of trouble. But there's time later to live that story. Today, we stand in awe of the grace – and joy - with which he came to heal. There is still a lot of that kind of healing to be done. This is why Jesus remains among us – to keep healing, and to show us how to do the same.
We worship to imagine how this work might take shape in our lives – in our world – today. We worship to prepare for this work, and to celebrate it. This Sunday, we will do this with the Sacrament of Communion, with sweet and holy music offered by Chris Nicotera and Heather Webster – as well as with our own voices; and with a concert at 1 PM at the church, which will further feature Chris and Heather, and our voluntary gifts to Habitat for Humanity..
We are all meant to be prophets, and we learn how to be so together. The prophets are among us. Yes; you too. We gather at 10 AM, in case you've forgotten.
Sabbath blessings-
AFP