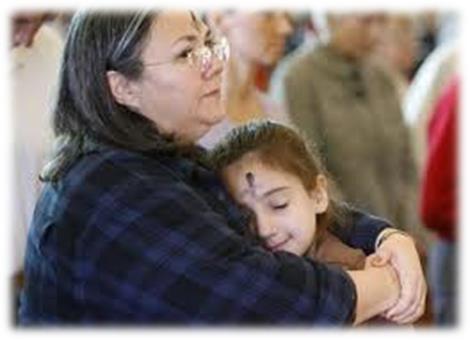 Dear friends-
Many Christian holy days – or seasons – get more attention than does Ash Wednesday.
But, oh, this is such a Holy Day. Look at the two woman souls in this picture. They have just received the "Imposition of Ashes" at a worship service on Ash Wednesday. They have come to a moment when we are invited to begin a time of humility, self-examination, repentance, and re-commitment to the heart of their relationship to God. A sober – some would say, grim – call to kneel. But, finally, it is not grim; it is the opposite of grim.
Look at them. They know that this is the heart and soul of an honest life of faith. Such is at once a sobering and liberating moment. The very heart of faith.
I just finished one of the strangest tasks a preacher is asked to do. I burned a fistful of Palm Sunday palms into ash. It's the coldest night I have ever done this task, and I huddled around the skillet where the fire glowed. But the ashes are ready
On Wednesday evening at 7 PM, we will gather at the Church on the Common to begin our Lenten journey. We will offer, to all who so desire, the sign of the cross in ashes on our foreheads – or wrists, if you prefer. Sounds strange to many, but you can be sure that it will hold a power that is unabashedly good. Preparation for a journey. To the cross, and beyond.
And perhaps you might begin the evening at our monthly Community Supper. A simple, sacred, delicious meal. Then to the sanctuary, for the start of an unbelievably holy journey. Supper at 6 PM. The journey starts at 7 PM.
You can only begin to imagine how welcome – and welcomed - you will be. Promise. Join us.
Lenten blessings-
AFP